From the Toronto Core to the Heart of Niagara in 30 Minutes
Hoverlink will move tourists and commuters quickly, quietly, and reliably between Ontario Place in Toronto to Port Weller in St Catharines in 30 minutes, up to 48 times per day, 365 of the days of the year.
No more waiting on the QEW: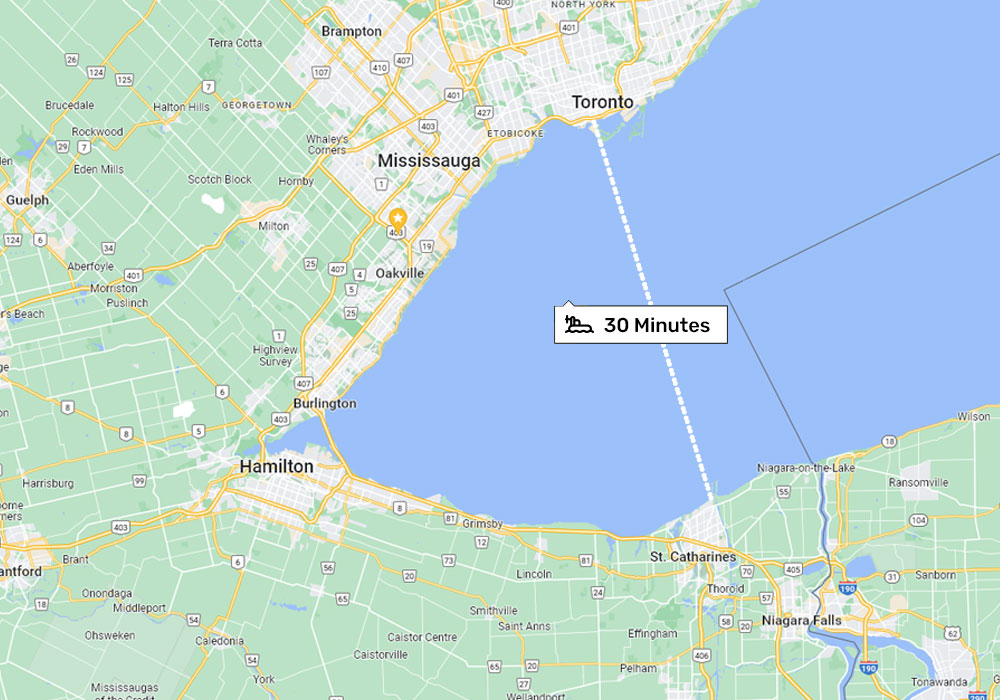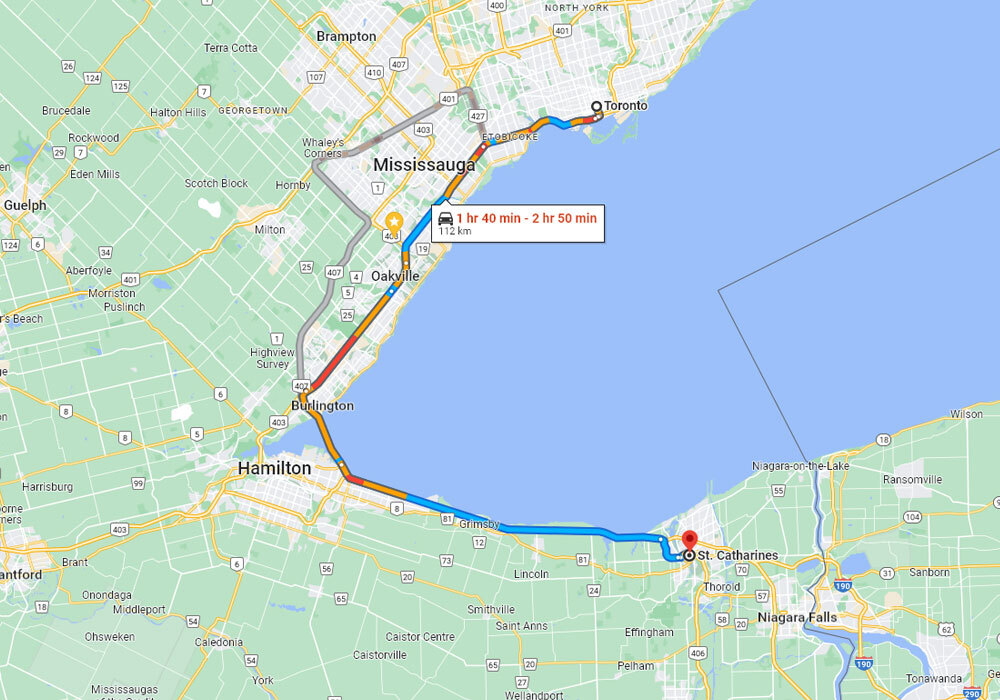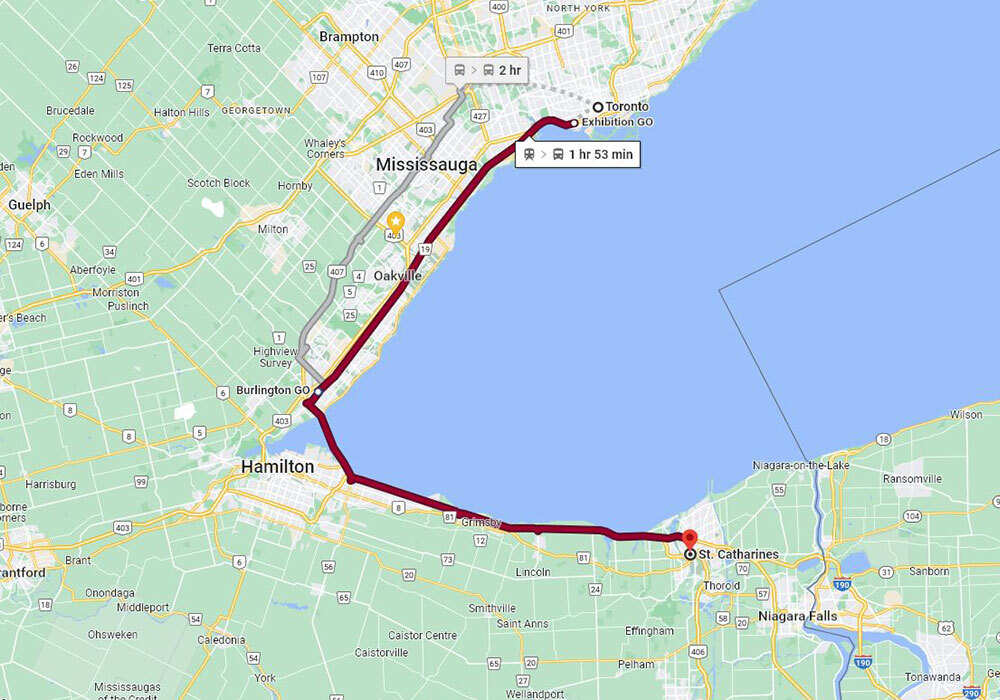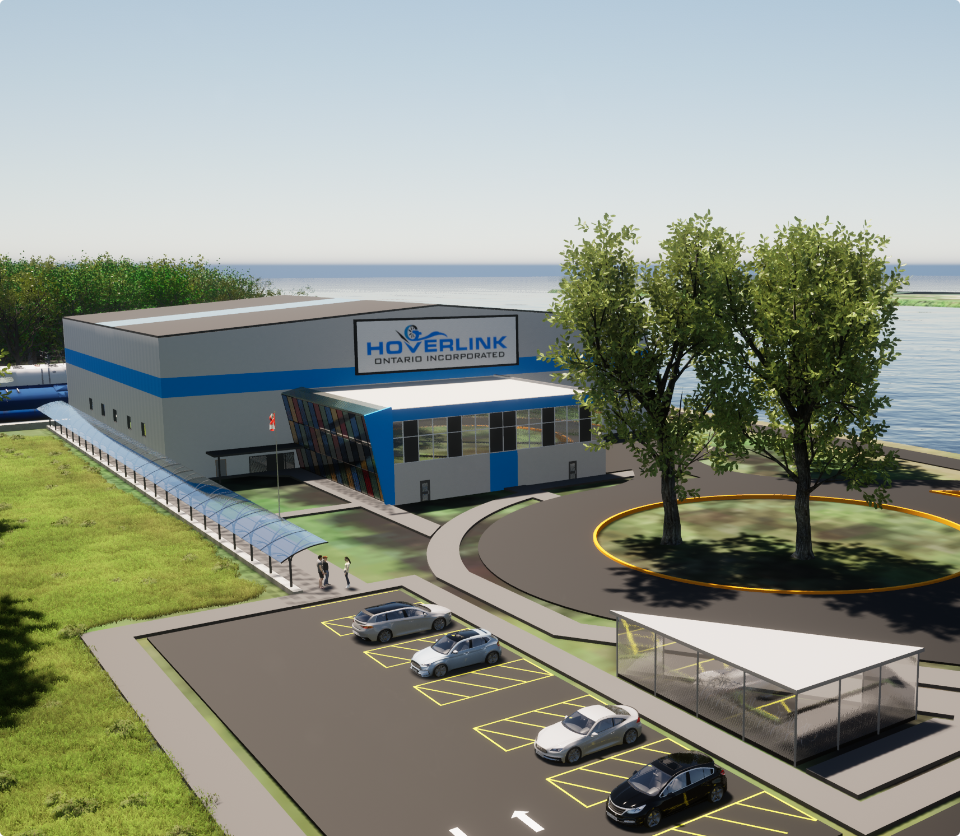 Hoverlink Transportation Service
Although we anticipated launching in 2023, we have experienced some delays. Rest assured the team is working to provide this service to you as soon as possible. Please sign up for emails and stay connected for further information!
Hoverlink pricing will be comparable to existing public transit options operating between Toronto and Niagara today — just with faster transit times. To meet all the needs of the traveling public, we'll offer single-use fares, multi-trip fares, student fares, peak and off-peak rates and more. As we near the 2023 launch, more details will become available.
The possibilities to connect more Canadian communities with Hoverlink are endless. Anywhere people want a greener and sustainable transit option to reduce emissions and gridlock, save travelling time, while adding to the local economies, is a good candidate for our hovercraft operations.
Less journey, more destination
Hoverlink vs. other transit (there really is no comparison)
Travel method
By Car 1
By Bus & Train 2
By Tour Bus 3
By Hoverlink hovercraft
Roundtrip Distance
220 km
220 km
220 km
86 km (Nearly ⅓ of other options)
Roundtrip Average Travel Time
2.5-3.5 hours
4 hours
4 hours
60 minutes
(⅓ to ¼ other options)
Cost
$85 average roundtrip:
$35.00 gas + $50 parking +
the cost of wear and tear
$42 roundtrip
$90 roundtrip
$50 to $60 roundtrip
Experience
-Stressful
-Unpredictable
-Expensive
-Tolerable (Wi-Fi available)
-Takes longer
-Schedules affected by weather/maintenance
-Low predictability
-Low flexibility
-No Wi-Fi
-Comfortable, reliable and
productive (Wi-Fi available)
-Shuttle buses included in fare
Travel method
Roundtrip Distance
Roundtrip Average Travel Time
Cost
Experience
By Car 1
220 km
2.5-3.5 hours
$85 average roundtrip:
$35.00 gas + $50 parking +
the cost of wear and tear
-Stressful
-Unpredictable
-Expensive
By Bus & Train 2
220 km
4 hours
$42 roundtrip
-Tolerable (Wi-Fi available)
-Takes longer
-Schedules affected by weather/maintenance
By Tour Bus 3
220 km
4 hours
$90 roundtrip
-Low predictability
-Low flexibility
-No Wi-Fi
By Hoverlink hovercraft
86 km (Nearly ⅓ of other options)
60 minutes
(⅓ to ¼ other options)
$50 to $60 roundtrip
-Comfortable, reliable and
productive (Wi-Fi available)
-Shuttle buses included in fare